This Is What Camilla, Queen Consort, Eats In A Day
When you think about royal mealtimes, you might have visions of lavish feasts, rare delicacies, and world-class chefs serving up divinely garnished plates. While that is the reality of some royal affairs, not every meal is as flashy as a royal banquet. With that in mind, many have wondered what the royals eat on a typical day. It's well-known that the late Queen Elizabeth II fancied breakfast cereal, grilled meats, veggies, and — above all else — chocolate cake (per British Heritage). Now, we're learning more about the food habits of Britain's newest matriarch, Camilla, queen consort.
Since Queen Elizabeth's death, King Charles III and Camilla, queen consort, will carry the torch of royal dining affairs — including the traditional Christmas turkey lunch, which the new sovereigns hosted for the first time in 2022 (per The Daily Mail). A glimpse into Camilla's everyday food choices proves that she has what it takes to carry on the monarchy's legacy of being the world's best dinner host. With a palette for all sorts of grub, Camilla's tastes offer the best of both worlds: she loves a meal fit for a queen just as much as she enjoys an affordable, down-to-earth dish. We're excited to see what Camilla will cook up as England's leading lady.
Camilla enjoys a hearty breakfast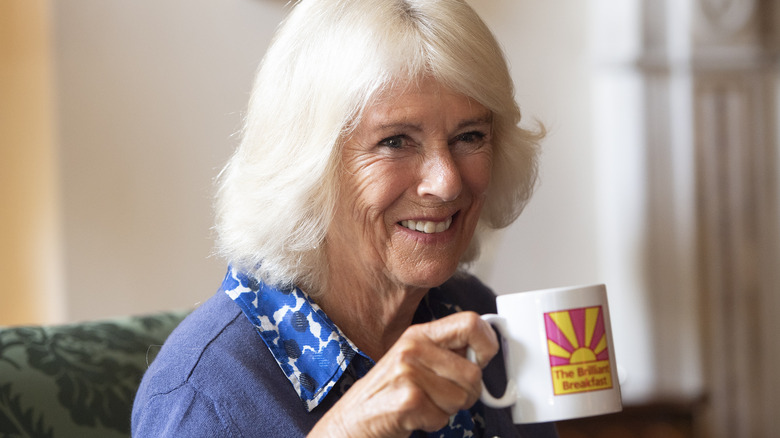 Reportedly, Camilla loves a hearty, protein-rich breakfast. Eggs are the reigning breakfast food, and they're always in abundance at the royal palace. For Camilla and her husband, King Charles III, eggs are more than a favorite breakfast dish — they're a passion. A source told The Sun, "Charles is the all-time chicken lover, and has an encyclopedic knowledge of most breeds and knows how to rear them. 'Cluckingham Palace' is what his house is sometimes called." The sovereigns keep a flock of English Orpington chickens at their Gloucestershire residence, and they produce rich, brown eggs.
Camilla's favorite breakfast dish is "cheesy baked eggs," according to Hello! Magazine. The meal packs a healthy punch with nutritious greens and a hefty serving of protein. This dish is just too good for the sovereigns to keep to themselves, so they revealed the recipe via Clarence House's official Instagram page. Thanks to the share, we can all dine like royalty.
When you've got an entire country to run, you wouldn't want to do so on an empty stomach. In fact, there's a very practical reason why the king and queen consort always eat a hearty breakfast. According to Gordon Rayner, former royal correspondent, they have a habit of skipping lunch. Rayner wrote in The Telegraph, "Lunch is seen as a luxury that gets in the way of [Charles'] work, so he eats a late breakfast and works through."
There are no fad diets for this queen consort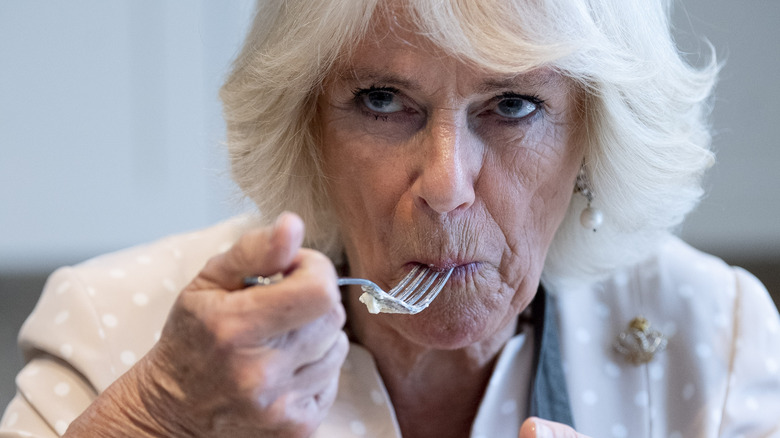 In 2019, Camilla railed against toxic dieting culture. Speaking with The Daily Mail, she remarked, "It is this ridiculous dieting, cutting out dairy and all the things that are good for your bones. These girls see 'Skinny Lizzies' in a magazine and they all want to be thin." The interview highlighted an important point about the dangers of conflating thinness with optimal health.
While the queen consort abhors diet culture, she does prefer to eat a healthy, balanced, and organic diet. Nutrition expert Sarah Campus weighed in on Camilla's eating habits to Express, saying, "Camilla particularly enjoys eating hearty meals using fresh produce, a lot actually which is produced on their estate. … Camilla's complexion is glowing and a lot of this is likely down to what she consumes being so organic, colorful, and varied." Campus also speculated that the queen consort takes a collagen supplement to maintain her healthy aura.
Camilla eats her veggies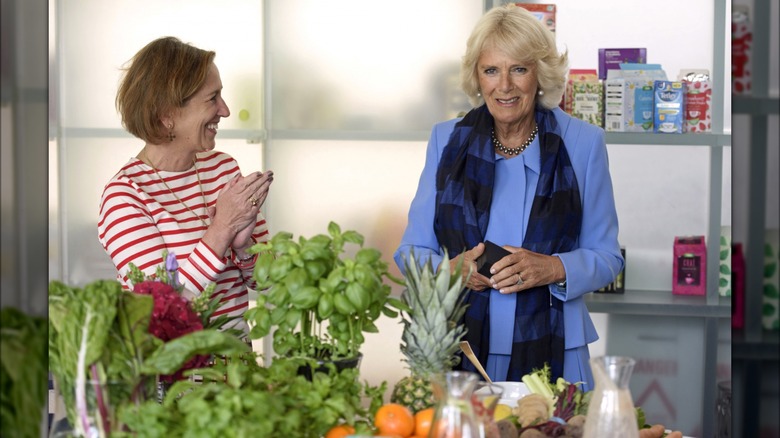 The royal residences are famously adorned with lush gardens. Tucked between their sprawling green landscapes and flowery kaleidoscopes, you'll also find bountiful vegetable plots. Camilla and Charles are champions for the cause of sustainable agriculture, and they're willing to walk the walk. In fact, their 21,000-acre Sandringham Estate was transformed into a fully organic farm under the guidance of King Charles himself, per Country Living. Thanks to their gardening enthusiasm, fresh veggies are always on the menu at the royal home. According to Hello! Magazine, Camilla and Charles grow enough fresh produce to keep their kitchen fully stocked throughout the year.
In 2021, the queen consort took "Gardeners' World" on a tour of her vegetable patch in Highgrove, which was teeming with leafy greens, asparagus, strawberries, and more. Reflecting on her love of the hobby, Camilla said, "You could go into a garden and you could completely lose yourself. You don't have to think about anything else. … There's something very healing about gardening" (via YouTube).
In 2022, the queen consort told You Magazine that she adores cooking with good ingredients and fresh vegetables. Camilla confirmed that she enjoys a hefty helping of seasonal produce. She revealed that she often cooks with kale, broccoli, carrots, and courgettes.
Camilla is diligent about dairy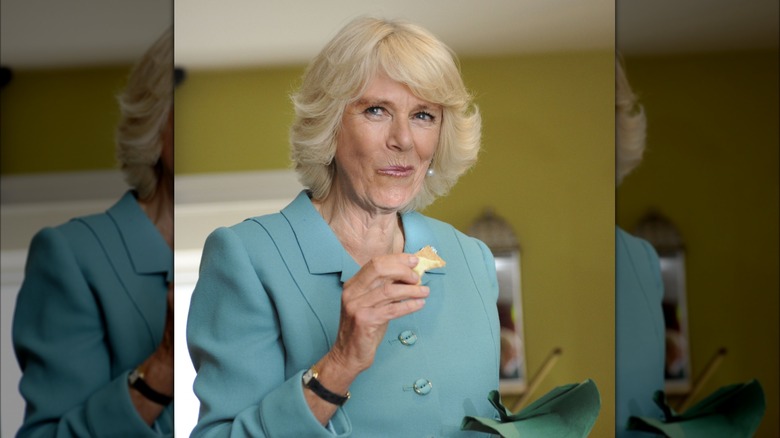 It's not unusual to see the king and queen consort meeting with local cheesemakers or poking around the table at a royal cheese tasting. After all, King Charles is the patron of the Specialist Cheesemakers Association (per Cornwall Live). It's clear that Camilla enjoys this tasty finger food, but there's an even more practical reason why cheese — and other dairy products — are part of her daily diet. Dairy is high in calcium, which is an important nutrient for people in their 70s, like Camilla. It's also an excellent source of vitamin D, a vital nutrient for aging bodies, nutritionist Daniel Herman told Express.
But there's a much more tragic detail about her dairy enthusiasm. Sadly, Camilla's mother died in 1994 due to osteoporosis. Osteoporosis causes the bones to become weak and fracture easily, sometimes to the point that even a cough or a bump can cause bone breakage (per Centers for Disease Control and Prevention). The queen consort reflected on her mother's illness in a written article, saying, "I believe that the quality of her life became so dismal, and her suffering so unbearable, that she just gave up the fight and lost the will to live" (via Clarence House).
Since her mother's death, Camilla has tried to turn her personal tragedy into something that can benefit the greater good. She now serves as president of the Royal Osteoporosis Society, where she's able to educate the public about this devastating disease.
The queen consort treats herself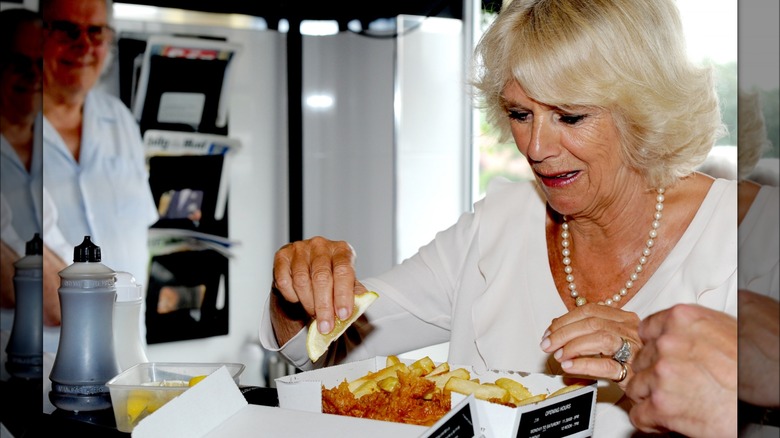 In 2022, Camilla dished to You Magazine about all of her favorite treats. It turns out that Camilla has some surprisingly down-to-earth tastes. One of her favorite snacks, she revealed, is baked beans on toast. And while the meal is totally unpretentious, there's one detail that the queen consort won't budge on: the beans have to be Heinz. What other meal satisfies a queen-sized hankering? According to Camilla, nothing compares to the classic fish and chips. "That smell. You cannot beat proper fish and chips," she said.
In November 2022, the queen consort spent an incredibly wholesome afternoon with children at Bow Nursery in London. The royal was on a mission to find new homes for dozens of Paddington Bear plushies that had been left by mourners at Buckingham Palace after the death of Queen Elizabeth II (per Metro). During her visit, Camilla munched on marmalade sandwiches, a snack that also happens to be the canonical favorite of the fictitious Paddington.
Camilla enjoys foraged and wild-caught foods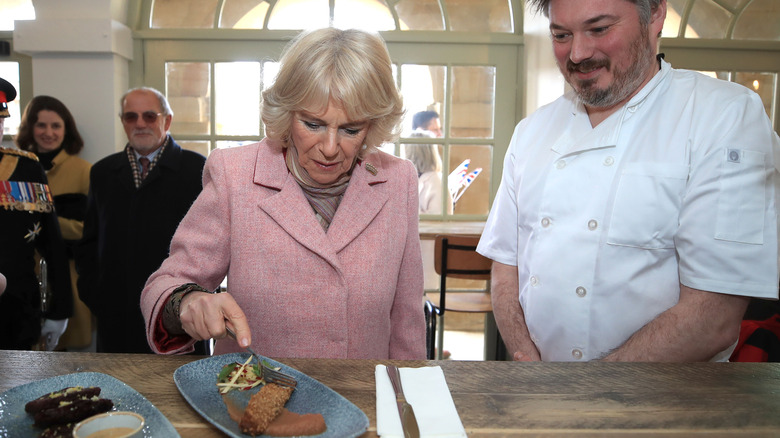 There's quite a bit of fanfare around the royal family's weird food choices. Between seven-year-old cake being used at christenings and the family's penchant for lamprey pie, the royals have certainly given us a lot to buzz about.
Camilla and Charles have an interesting food fixation of their own: they eat foraged mushrooms. One source of their favored fungi is Balmoral Castle. The lush grounds of the estate are a haven for all kinds of flora and fauna, including delectable cépe mushrooms. In his book "Eating Royally," former royal chef Darren McGrady recalled, "Balmoral is an absolute treasure trove of wild mushrooms" (via South China Morning Post). Balmoral is also home to salmon. In his book, McGrady dished about Charles' passion for fishing, and how the king spent countless hours in the river plucking massive fish out of its currents. "The salmon was so fresh its eyes seemed to follow you around the room," McGrady wrote.
Despite their enormously privileged lifestyle, even the sovereigns know that nothing tastes as good as a meal that you worked hard to procure. But the queen consort doesn't have to rely on Charles for a foraged or wild-caught meal. Thanks to her rural upbringing, the queen consort is a skilled hunter and fisher (per British Heritage).
She has no problem eating yesterday's meals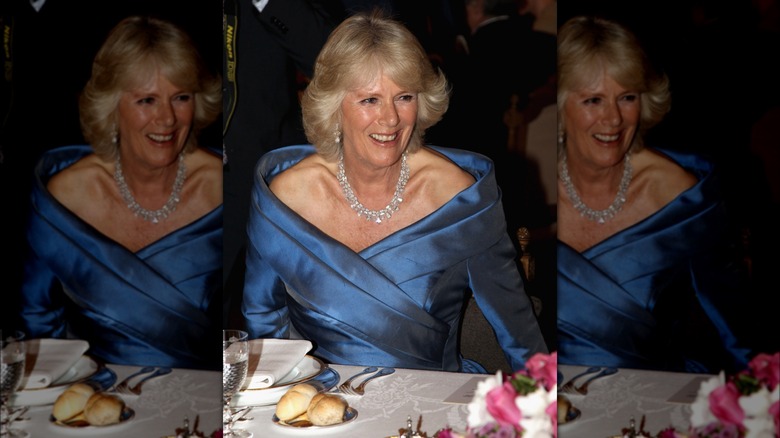 "Frugal" and "economical" aren't necessarily words that come to mind when you think about royalty. With so many resources at their disposal, it's hard to imagine that sovereigns put a lot of thought into how much waste they produce. But for Camilla and Charles, environmentalism is an important virtue. With guiding principles like composting and organic farming, the royals seem to embrace sustainability on a personal level.
In fact, King Charles' former private secretary, Clive Alderton, told author Catherine Mayer, "I've rarely met someone who is so frugal, not in the sense of meanness but an absolute allergy to waste" (via International Business Times). According to Mayer, it's common for the king and queen consort to store their leftovers in Tupperware, rather than throwing them away.
A former royal chef, Carolyn Robb, revealed Charles has always had this preference. When Robb cooked for Charles and Princess Diana, the royal couple was creative with their leftovers, often transforming yesterday's meals into a completely new entree. "They were always very thrifty and economical," Robb told Racked. "If we made roasted lamb and there were leftovers, we'd probably go and make shepherd's pie the next night."
Her snacking habits are impressively healthy


As a skilled gardener and superfood enthusiast, it's no surprise that Camilla's favorite snack is the ultimate feel-good food. In a 2013 speaking engagement, the queen consort revealed that raw peas are her go-to treat (via Express).
"I tell you what I really like — eating peas straight from the garden. If you take them straight from the pod they are delicious and really sweet," she said. She went on to divulge that the royal grandkids love sharing this healthy snack with their grandmother. "I take all my grandchildren down to the garden and they spend hours and hours eating peas. They eat and they eat until they are almost sick."
With such a passion for healthy living, we're sure that Camilla encourages her grandchildren's healthy choices. However, they're definitely forging their own culinary preferences — including one that Camilla is less than enthused about. In a 2018 episode of "MasterChef Australia," the queen consort confessed, "My grandchildren are rather addicted to ketchup" (via Twitter).
The queen consort doesn't skip the sauces or oils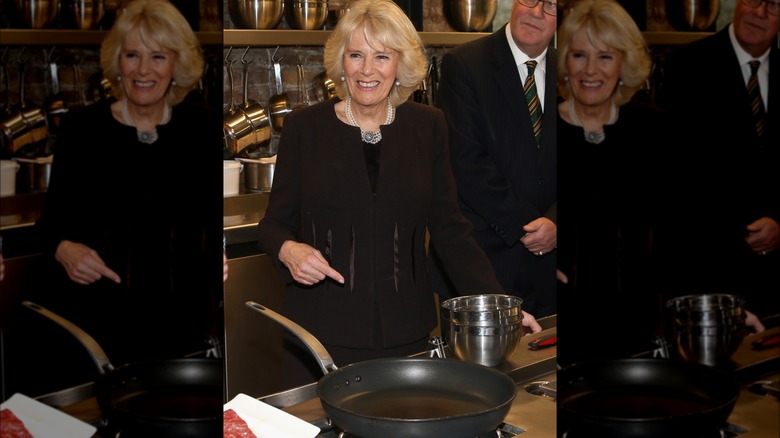 Similar to many of us, Camilla's earliest and fondest memories were formed around food. "I grew up in a very happy home, with good food at its heart," the royal told You Magazine. When Camilla started her own family, her mother's recipes became a way to pass those same warm memories on to her own children. Although her kids are now grown and she is one of England's highest-ranking figures, Camilla told You Magazine that she still cooks at home. So it makes perfect sense that the queen consort, like other amateur chefs, has an array of cooking essentials in her kitchen.
When it comes to culinary necessities, there are a few things that Camilla can't live without. In an appearance on "MasterChef Australia," the sovereign revealed that olive oil is a staple in her home. She also shared that fresh tomatoes or tomato purée are never in short supply (via Twitter).
That said, there are a few items that you simply won't find in the queen consort's pantry. Camilla told You Magazine that she steers clear of chili and garlic. Furthermore, her royal highness has very strong feelings about peppers. "I can't bear peppers, raw or cooked," she told the publication.
Meats are a staple at her dinner table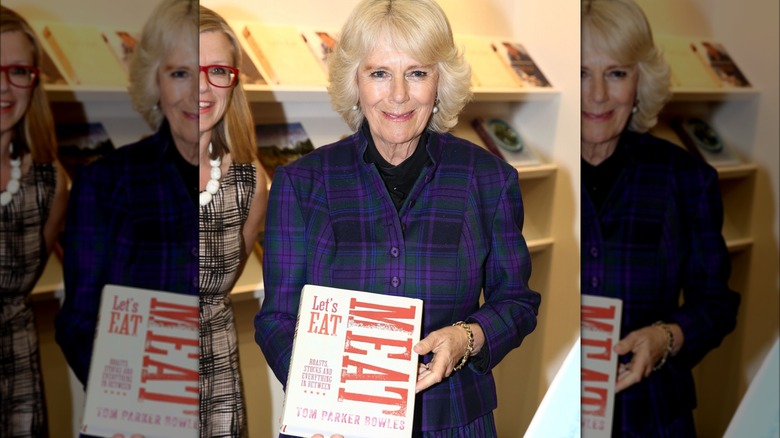 Camilla packs a variety of foods into her daily diet, so it's no surprise that meat is featured prominently on her dinner plate. The sovereign told You Magazine that she enjoys cooking pork and lamb chops, roast chicken, and chicken casserole. But her royal highness admitted that she's not exactly a superstar chef. "I could fill a book with all my cooking disasters," she lamented.
Nutrition expert Nataly Komova believes that meats, as part of a well-balanced diet, are the secret to Camilla's radiant, energetic glow. Komova speculated to Express that the queen consort enjoys staples like roast chicken, lamb, and salmon. When selecting her protein sources, Camilla focuses on variety and prioritizes healthy fats. According to nutrition coach Sarah Campus, avocados, fish, and almonds are also likely on heavy rotation for the protein-loving royal (per Express).
Meats and other protein-rich foods provide Camilla with the energy that she needs for her favorite activities, like horse riding, gardening, and dancing — as well as that small matter of running the British Empire. Camilla's dinner choices are nutritionist-approved, Komova told Express. "It is best to adopt Camilla's lifestyle, which includes staying active," the expert said.
Camilla is a sucker for sponge cake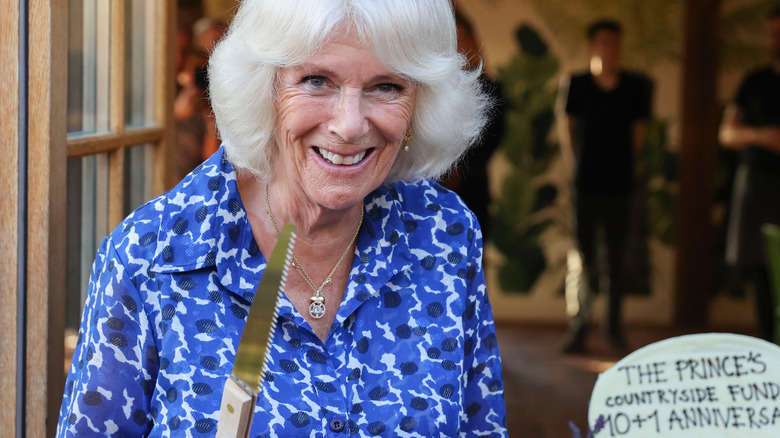 If you want to dine like a queen, you simply can't leave out the decadent desserts. The late Queen Elizabeth II knew that well, as her love of cake is legendary. Indeed, there has been many a royal engagement that featured Elizabeth smiling toothily as she dug into a towering cake. The sovereign's commitment to cake was something to behold. According to her former chef, she would even travel with her favorite confection of all, chocolate biscuit cake (via Taste of Home).
Keeping in line with her mother-in-law's majestic tastes, Camilla has a sizable sweet tooth — and she's not shy about indulging it. According to The Takeout, the Victoria sponge cake is Camilla's favorite. But the sovereign enjoys putting a twist on the traditional recipe. Instead of the classic filling of berries or jam, the queen consort prefers Nutella or lemon curd.
Like all queens, Camilla gets to have her pick of dazzling desserts. When You Magazine inquired about her post-meal preference, Camilla said she loves "some bitter chocolate ice cream. Plus strawberries and raspberries and lots of clotted cream."