Fallout from suspected spy balloon kills 'huge propaganda win' for China
Until it was shot down it appeared to be peacefully floating across American airspace. But on the ground the suspected use of a spy balloon triggered a diplomatic maelstrom, and experts say it has undermined efforts to repair relations between the U.S. and China.
"This incident is incredibly embarrassing for Beijing. It reinforces concerns that most Western nations justifiably harbor about China's great power ambitions," Craig Singleton, a senior China fellow at the Foundation for Defense of Democracies, a Washington, D.C., think tank and lobbying organization, told NBC News on Saturday.
He added that Secretary of State Antony Blinken's decision on Friday to indefinitely postpone his visit to China had defeated what would have been a "huge propaganda win" for Beijing, "in essence signaling that America has dispatched its top envoy to China and not the other way round."
The potential path of the Chinese balloon
One path model takes the balloon through North Carolina Saturday.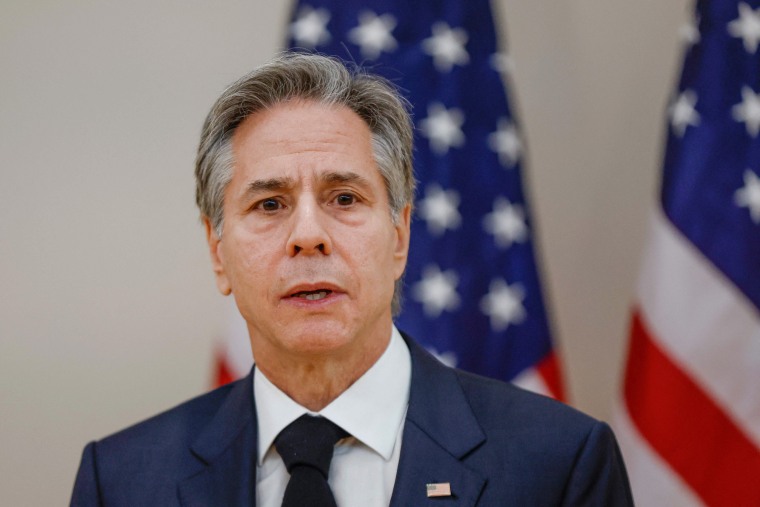 Blinken, who had been scheduled to depart Washington for Beijing Monday, said he had told senior Chinese diplomat Wang Yi in a phone call Friday that sending the balloon over the U.S. was "an irresponsible act and that (China's) decision to take this action on the eve of my visit is detrimental to the substantive discussions that we were prepared to have." Blinken's visit would have been the first to China by a U.S. secretary of state since 2018.
Now "Chinese officials are finding themselves in damage control mode," Singleton said.
First spotted over Montana, which is home to one of America's three nuclear missile silo fields at Malmstrom Air Force Base, the massive white orb, which is about the size of three school buses, has been heading southeastward over Kansas and Missouri at 60,000 feet.
Describing it as a "high-altitude surveillance balloon," Pentagon spokesperson Brig. Gen. Pat Ryder said Thursday that the "government acted immediately to protect against the collection of sensitive information." Asked why the U.S. did not shoot down the balloon, Ryder said the government had ruled it out because of the "potential for debris and property damage" to people and structures on the ground.
White House press secretary Karine Jean-Pierre told reporters Friday that the U.S. had actually been tracking the balloon since at least Tuesday, when President Joe Biden was first briefed.
Biden said Saturday that the U.S. was "gonna take care of it" and later U.S. officials later said it had been downed off the South Carolina coast.
By then curiosity about it had swept the nation. Fuzzy videos have been posted to social media and search phrases like "where is the spy balloon now?" and "spy balloon tracker" have been trending on Google.
China's Foreign Ministry admitted the balloon was indeed theirs in a statement Friday but insisted it was "a civilian airship used for research, mainly meteorological purposes."
In a separate statement Saturday, it said that Wang Yi had spoken with Blinken and they had "communicated on how to deal with accidental incidents in a calm and professional manner."
The readout came hours after the Pentagon said it had observed another Chinese surveillance balloon flying over Latin America, without providing further details on its location.