Anthony Bourdain in Japan: "What do I do Now?"
To say that Anthony Bourdain, award-winning food writer, chef and travel show host, was a fan of Japan, would be remiss. The man loved the place, consumed the place, spent nine filming trips there, and would happily have picked "Tokyo in a second" if he had to live in one city for the rest of his life.
Bourdain was obsessed. And rightly so. With countless food dishes to try, an array of locations to visit and a deep well of culture to explore – both modern and traditional – Japan is a dam bust of fascination. "Japan is endlessly interesting to me," he told Richard Feloni of Business Insider in 2016. Even after producing four documentaries about Japan, its culture and its people, "I don't think I've even scratched the surface and I don't think I ever will."
"Shinjuku Restaurant" by Josh Wilburne
Sadly, this last sentiment carries more weight now than it did back then. The beloved chef, who once crossed politics with beer with President Obama in Vietnam, drank scotch with thousand-year-old glacial ice, and would frequently rub shoulders with his childhood rockstar heroes, Iggy Pop and Alice Cooper, tragically passed in 2018 while filming the twelfth season of his hit travel and food show, Anthony Bourdain: Parts Unknown.
Yet, with so many stories under his belt, from his bestselling books – Kitchen Confidential (2000) and Medium Raw (2010) – to his other acclaimed food and travel shows – A Cook's Tour (2002–2003) and No Reservations (2005–2012) – America's bad boy chef left behind a plethora of experience to divulge and learn from.
"President Barack Obama and Anthony Bourdain Share a Beer in Hanoi, Vietnam"
And we here at Japan Nakama intend to do just that. Or at least, do our part in honouring the great culinary legend. Join us, as we explore the late great chef's deep connection with Japan and all its cultural, and culinary idiosyncrasies. This is Anthony Bourdain in Japan: "What do I do Now?"
People
Bourdain's travels brought him into contact with a world of eclectic sorts. Sharing a deep bond with French TV Chef, Éric Ripert, owner of Le Bernardin in New York, as well as José Andrés, Spanish restauranteur, and founder of World Central Kitchen. Andrés once commended Bourdain for his ability to "show all of us that it's worth it to go to the end of the world for the right food and for the right stories" (CNN 2018).
A much-beloved aficionado of distinct foods and food preparation techniques, Bourdain also enjoyed many widely reported feuds, such as with fellow TV chefs Guy Feiri and Rachael Ray. However, in Japan, the relationships he formed were bonded in mutual respect.
Naomichi Yasuda
While filming the Parts Unknown episode about Tokyo, Bourdain was fortunate enough to be chauffeured around by iconic sushi chef, Naomichi Yasuda.
"Sushi Master Naomichi Yasuda" via @munchies
Best known as the founder of the eponymous, Sushi Yasuda, a sushi restaurant in New York City, Yasuda is a perfectionist when it comes to the art of Japan's most popular culinary export. After visiting Yasuda's establishment during one of his shows, Bourdain enjoyed himself so much that he would come once per week, He considered the itamae ("sushi chef") one of the greatest in his profession, and Sushi Yasuda "one of the best, if not the best, sushi restaurants in New York," making Yasuda's abrupt return to Japan in 2011 all the more perplexing (Parts Unknown, "Tokyo").

Spurred to "start all over again," as affirmed by Bourdain, Yasuda opened up another sushi restaurant Sushi Bar Yasuda, in Tokyo (Parts Unknown, "Tokyo"). Here he would continue his practice of training the next generation of sushi chefs, a profession that can take from 2 – 20 years to master. Unfortunately, the restaurant has since closed down for undisclosed reasons. Yet not before Bourdain got to see for himself the master Yasuda at his best.
Trained in karate from a very young age, Yasuda (and many other itamae such as the legendary, Jiro Ono, who Bourdain met during the filming of his previous travel show, Anthony Bourdain: No Reservations) see martial arts as a gateway to mastering the art of sushi. Yasuda takes Bourdain to Kameo Dojo in Asakusa to show him the connection between karate and making good sushi. "Many people ask me, "what's the point between the karate and the sushi?"" Yasuda tells Bourdain, "the movement is so much good for when I make sushi" (Parts Unknown, "Tokyo").
"Karate Master Naomichi Yasuda" via @kevinklehr
Specifically noting the school of karate known as Kyokushin, a style which utilises stand-up fighting and is rooted in a philosophy of self-improvement, discipline, and hard training, Bourdain reveals how Yasuda's movement as a karateka ("karate practitioner") informs his proficiency as an itamae:

"Speed: every second is important. Rice is getting cold, seaweed is getting soggy, fish less than perfect temperature. Look at his posture: a fighter's stance. Distance: knowing the perfect spot to be. Moving in and out is needed. Never out of position. Timing: reacting to his customers' pace of eating, their ever-changing desires. Always ready for the next move" (Parts Unknown, "Tokyo").

Masa Takayama
Another of Bourdain's friends to show him the sights of Japan is Masa Takayama, owner of self-styled Japanese and sushi restaurant, Masa, also located in New York City.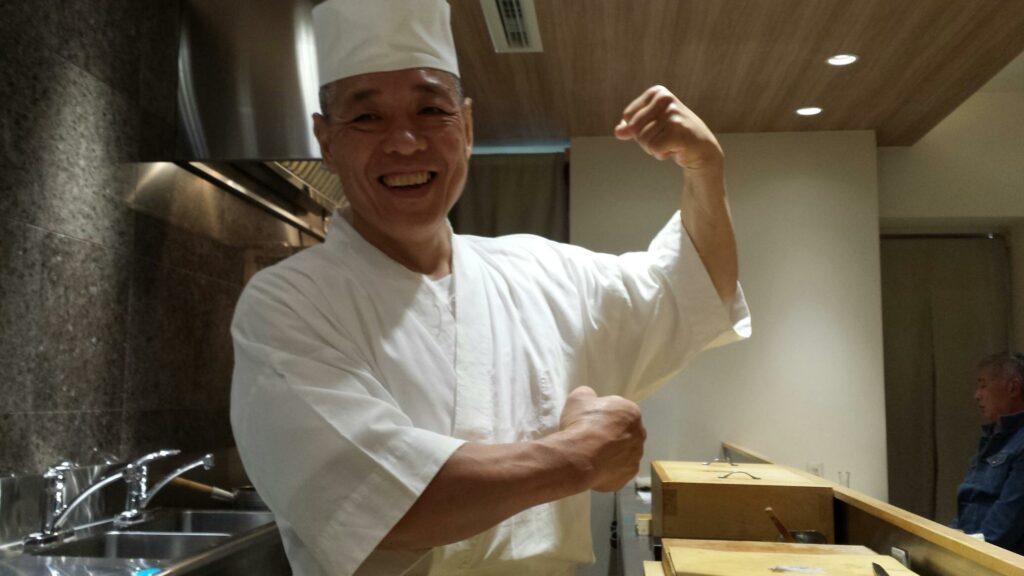 "Masayoshi "Masa" Takayama" by Bobak Ha'Eri licensed by CC-By-SA-3.0
Sharing a similar discipline with Yasuda, Takayama instead found his training in kendo ("the way of the sword"), a Japanese martial art where practitioners use bamboo sticks like samurai swords to beat each other to a pulp.
"Two Kendokas Spar Together" by MIKI Yoshihito licensed by CC BY 2.0
Much like fencing, in kendo, each practitioner will wear protective armour to save from inflicting any permanent damage to their opponent, and much like Yasuda, with karate, Takayama cites this part of his life as seminal to his rise as an itamae. In the episode, Parts Unknown "Japan With Masa," Takayama takes Bourdain on a homecoming of sorts, as the Japanese-born New York-based chef visits his home country and explores the prefectures that defined his childhood, namely Ishikawa and Tochigi.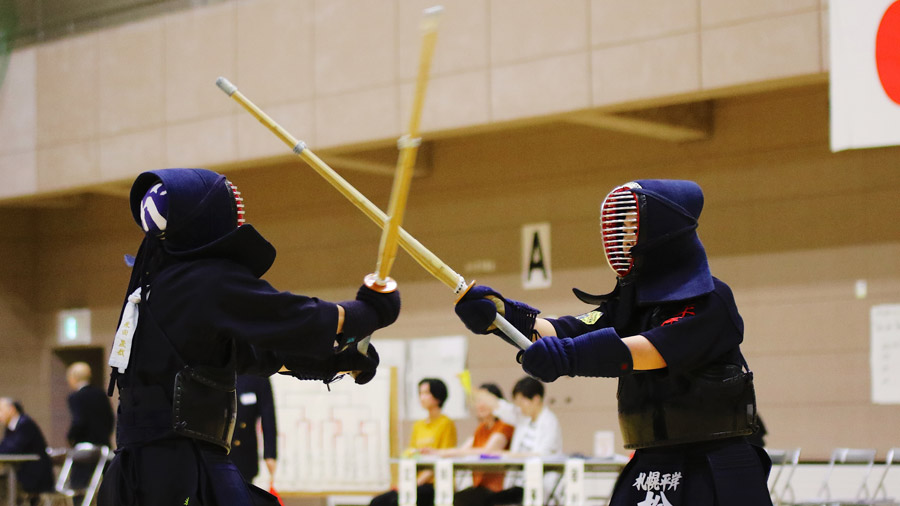 "Anthony Bourdain and Masa Takayama Enjoy Oysters at a Local Market" via @Eater
The duo of chefs visit Takayama's junior high school, where Bourdain discovers that "the concept of kaizen, "improvement", central to the study of any martial art, it could be said, also applies to cooking at a high level" (Parts Unknown, "Japan with Masa").
Undisciplined as a child, we find out that Takayama essentially gave up on high school to commit to his dream of going to New York. "I can't sit long," Takayama states, "I've got to do something" (Parts Unknown, "Japan with Masa"). Takayama would take what discipline he learned from kendo and apply it to his sushi making, earning his restaurant three Michelin stars along the way. I guess he must be doing something right.

Joining Takayama for an outdoor cookout in his hometown Nasushiobara, Takayama's childhood friends discuss how unsurprised they were when he finally flew the coop. It was inevitable. He had "second son" syndrome as affirmed by Takayama, whose older brother, Kazuo, stayed behind and became the proprietor of local restaurant, Sugimura (Parts Unknown, "Japan with Masa"). In Japan, it's often the case that the eldest son is responsible for taking care of their parents, thereby making the second eldest, somewhat of a wild card.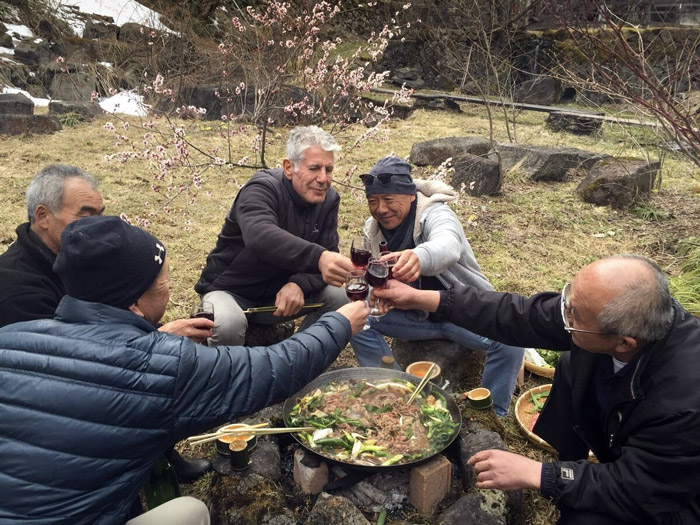 "Anthony Bourdain and Masa Takayama Trade Stories at an Outdoor Cookout" via @whereissaraha
"We all come from someplace that's for sure," notes intellectual silver fox, Bourdain, elucidating that despite travelling halfway around the world to start one of the most celebrated sushi restaurants in the world, Takayama still carries the same small town qualities that make his rise to culinary master, so endearing. "They say you can take the boy out of the country, but you can't take the country out of the boy" (Parts Unknown, "Japan with Masa").

Bourdain's final sentiment brings Takayama's career all the way around. Mastering his family's dishes, his nation's cuisine, and his cultural heritage and brandishing them with tenacity, sashimi knife in hand, kendo in his heart.
Cuisine
Naturally, when one decides to commemorate the life and times of a celebrity chef, one must take into account some of their favourite dishes. Bourdain had an eclectic taste, enjoying blood sausage in Budapest, tripe in Tbilisi, and Jamaican jerk crab in… Jamaica.
"Anthony Bourdain in Japan" via @annafifield
In Japan, Bourdain found his love for the nation's wide-ranging cuisine in the smaller places, the off-the-beaten-track kind of establishments. He found pleasure in wandering away from the standard course of procedure and seeking out "parts unknown" in the greater sphere of Japanese cuisine.
"The great experiences seem to sneak up on you because you kind of f—ed up, you took a wrong turn, and you ended up in a place where you permitted events to unfold"
(Business Insider, 2016).
Miso Ramen
In the No Reservations episode on Hokkaido, which was filmed only a few weeks before the 2011 Tohuku earthquake and tsunami, the strongest in Japan's recorded history, Bourdain finds himself in the neon-lit district of Susukino, Sapporo. Transfixed by the ice sculptures of the Sapporo Snow Festival, he enjoys the city's signature miso ramen at a shop called Aji no Karyu on Susukino's Ganso Ramen Yokocho ("Original Ramen Alley"). Known for its long history, the Yokocho alley is said to have been the birthplace of miso ramen, beginning way back in 1948 with the opening of eight ramen houses.
"Susukino's Ganso Ramen Yokocho: The Birthplace of Miso Ramen" via @annetrent
A simple dish which combines broth, made with either pork, chicken, vegetable or a mix of all three, with miso, a traditional Japanese seasoning made from fermenting soybeans with salt and kōji. Traditionally served with pork belly, stir-fried vegetables and good noodles made with fresh eggs, miso ramen comes in many types and servings.
"Miso Ramen with Seafood and Pork, from a Ramen Shop in Sapporo" by Schellack licensed by CC BY 3.0
Sapporo's miso ramen has no rules, making it the perfect dish for every occasion. Bourdain enjoyed his with crab and scallop, but you can enjoy it however you like. It's savoury, simple and off-the-beaten-track tasty. That's the Bourdain stamp of approval. "Good food is very often, even most often, simple food."
Uni
One of Bourdain's favourite dishes, and perhaps most controversial to Western tastes, is uni, "sea urchin", or more specifically, their reproductive organs.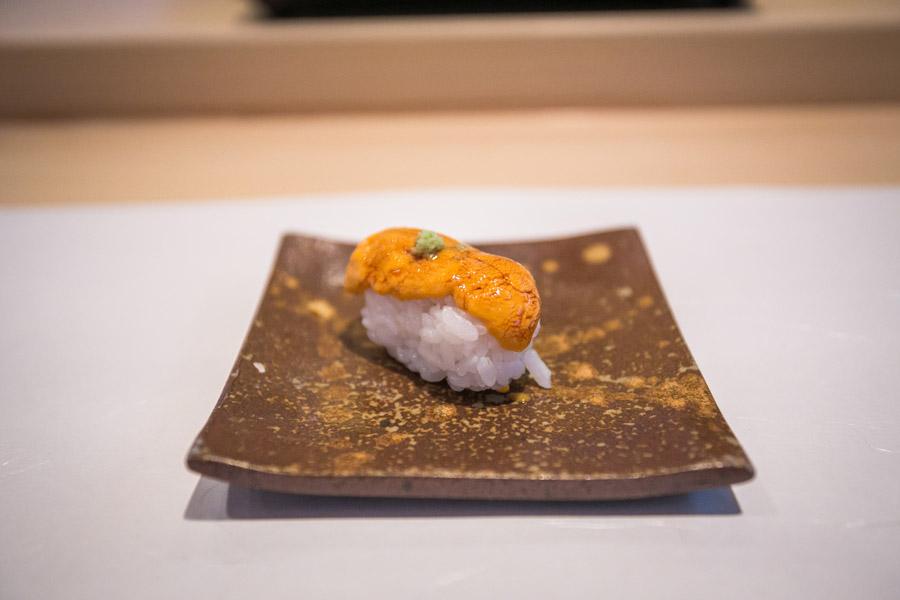 "Uni – Sea Urchin" by City Foodsters licensed by CC BY 2.0
Strips of "tongues" that live within the structure of a sea urchin, the gonads are the only part which carries any nutrients. Multiplying and diminishing throughout the year, peaking in late Spring and Winter respectively, uni is considered a Japanese delicacy, used in sushi, or raw as sashimi. Farmed extensively during their peak months, uni is one of the most peculiar and popular dishes exported from Japan. The nation itself consumes 50,000 tons of the stuff annually, amounting to over 80 to 90 per cent of the global supply.
Oftentimes served with soy sauce and wasabi, Bourdain dines on the Japanese delicacy in Sapporo's Central Wholesale Market, enjoying a bowl of uni ikura don, a rice bowl topped with sea urchin and salmon roe, at a restaurant called Wakakoma.
Anthony Bourdain Gulps Down Uni Fried Rice at the Night Marke Song, L.A." via @grubstreet
"[Little] plump sacks of goodness," Bourdain calls uni in the episode of Parts Unknown about Newfoundland, Canada, where they also enjoy the rich, sweet sacs of horny echinoderms (meaning "spiny skin"). Sadly, the delicacy has yet to find its niche in the west, as food journalist, Jane Zatylny laments, despite their commercial harvest in Victoria, British Columbia, "it's rare to see them on a menu or for sale at a fish counter" (Hakai Magazine, 2018).
Culture
A food fanatic and a people person, Bourdain travelled the world in search of the details. Endlessly interested in the human condition, he sought out the most unique aspects of international cuisine not simply to enjoy the best dishes but to explore the culture entrenched in the countries from which they originate. And Japan was no exception.
"Remembering Anthony Bourdain Through His Travels in Japan" via @GaijinPot
Tokyo by Night
In the opening to Parts Unkown, "Tokyo", we find Bourdain venturing out into the Kabukichō district, an area of Shinjuku known for its nightclubs, shops, restaurants, and love hotels. A red-light district for lack of a better term. Yet, one that generally refrains from the buying and selling of sex itself, and instead offers a more wholesome experience, whereby tired and overworked salarymen (and women) will peruse the establishments in search of thoughtful affirmation.
"Kabukichō. Shinjuku's Red Light District" by Basile Morin licensed by CC BY-SA 4.0
He discovers Kabukichō's famous host and hostess clubs, where women (and men) sell their time and attention to dishevelled workers for a high price. Known in the Japanese as kyabakura and kurabu respectively, these establishments are there to welcome the men and women of Tokyo and allow them a place to entertain attentive conversation with a dedicated staff member or host. Successors to Japan's traditional geisha houses, the clubs help to enrich the everyday lives of the everyday man or woman, without actually permitting any sexual activity to take place.
"Host and Hostess Clubs in Kabukichō District" by Dick Thomas Johnson Licensed by CC BY 2.0
"Pity the salarymen," Bourdain pleads, "Tokyo's willing cog in an enormous machine requiring long hours, low pay, total dedication. And sometimes what's called karōshi: death by overwork" (Parts Unknown, "Tokyo"). Bourdain's compassion for the workers of Tokyo shows that the man was more interested in people and culture, rather than the food he was so known for.
"Two Drunk Guys Get Woken Up by the Kabukichō Clean Up of 2006" by Jim Fischer licensed by CC BY 2.0
Shortly afterwards, Bourdain enters a strange, robotic nightclub with Japanese film producer and production manager, Masa Kokubo. Unbeknownst as to why he's been dragged into this neon-lined ecstasy trip, he soon finds out that what he's about to witness, is, what he will later coin, "the greatest show in the history of entertainment" (Parts Unknown, "Tokyo").
"Charge of the Fembots at Kabukichō's, Robot Restaurant" by Cory Doctorow licensed by CC BY-SA 2.0
Robot Waitresses, otaku maids, pole dancers, scantily-clad brass bands and drinks on drinks while listening to the hardest electronic beats. Bourdain is utterly transfixed if a little bewildered. Reluctantly waving a glow stick around like a true gaijin, he admits "I'm confused", as Akira-style mecha bikes go riding around the stage, "What does it all mean?" (Parts Unknown, "Tokyo").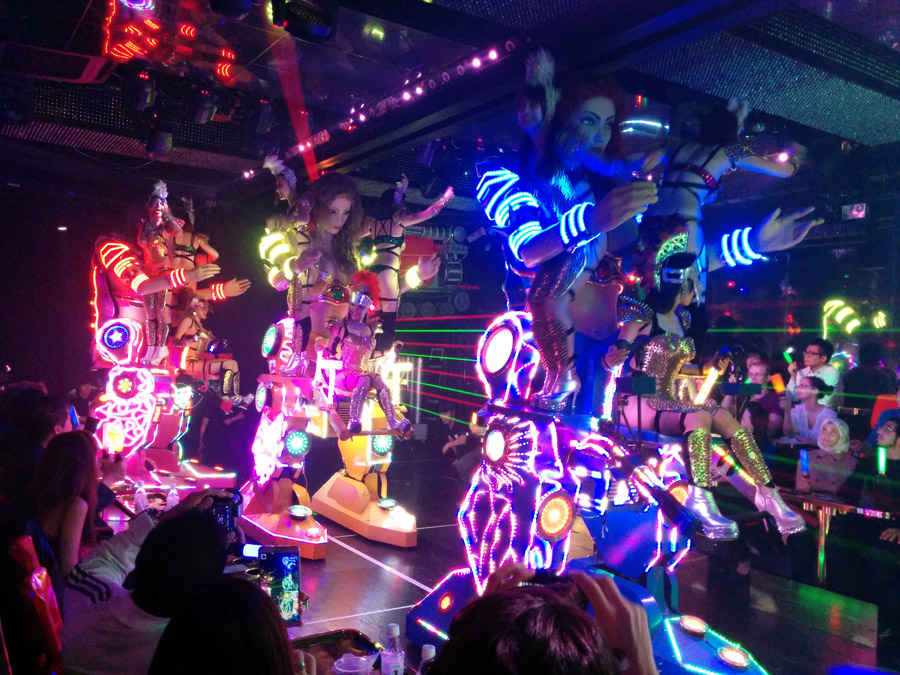 But he loves it, laughing boisterously, high-fiving the hard-working performers and lauding the event as "the greatest show I've ever seen in my life" (Parts Unknown, "Tokyo"). He explodes with excitement as Kokubo wanders along next to him, enjoying the enthusiasm from a nonchalant, been-there-done-that sort of level. "It had it all … There's like a hundred people working on that show. Millions of dollars worth of robots and technology! How do they make money?" Bourdain asks Kokubo. "Well, one thing, for sure, about this area is that quite a lot of businesses, unspoken, but governed by the yakuza," Kobuko replies, hushing slightly at the last word.
"Yakuza showing off their tattoos and status at the Sanja Matsuri festival in Japan, 2007" by elmimmo licensed by CC BY 2.0
Yakuza are the infamous criminal organisation "prominent in the entertainment and financial services sector" across Japan (Parts Unknown, "Tokyo"). Violent and too many times romanticised in pop culture (much like the Italian-American Mafia in Martin Scorsese films), the Yakuza are also known for their somewhat humanistic practices. Helping businesses run smoothly, even if those businesses are in the off-kilter business of robot carnivals, otaku clubs and… other things.
Falling in numbers since the implementation of the Anti-Boryokudan Act in 1992, the Yakuza still "supervise things here in Shinjuku," Bourdain notes, with approximately 12,300 active members in Japan as of 2021.
Fetishism
Later in the episode, Bourdain meets up with Tomika, a professional dominatrix whose main area of work is in the Taitō ward of Tokyo. Challenging the assumption that Japanese women are victims of convention, shy and subservient in matters of business and pleasure, Tomika is the antithesis. Whips and chains are her state of play, making her way through the red-light districts of Tokyo, and servicing pleasure from pain.
"A Shibari Performance by Kinoko Hajime" via @Shibarijp
"So, how big is the sadomasochistic community? How many people are active participants?" Bourdain asks Tomaki's longtime partner, and master of shibari ("to bind"), Kinoko Hajime (Parts Unknown, "Tokyo"). "100,000 people," their translater responds, "a lot," as the odd foursome bond over kusaya, a grilled fish dish popular at many izakayas (Parts Unknown, "Tokyo").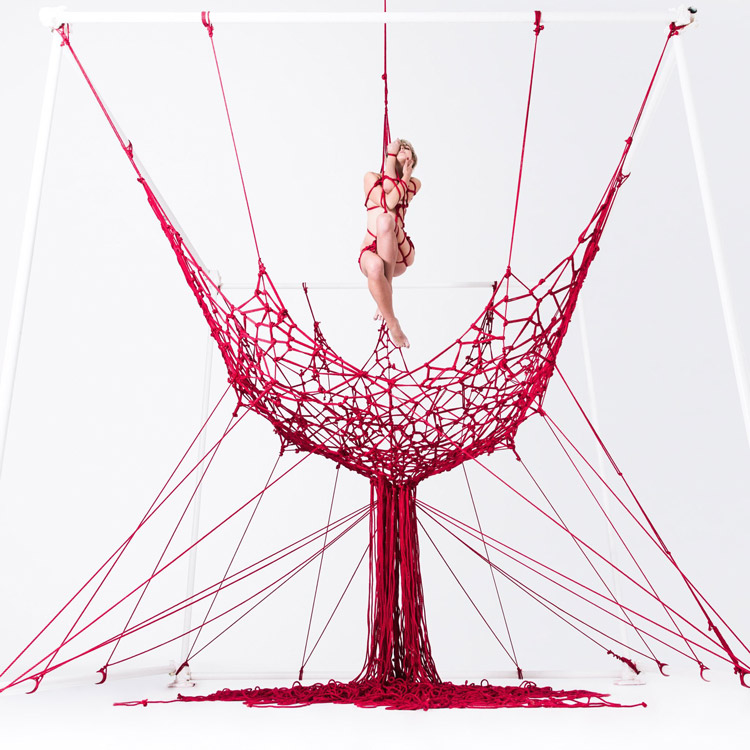 Bourdain shuffles nervously at the duo of pleasure seekers as they enjoy sake and beer at Daitoryo, Tomika's chosen izakaya, delicately asking why they enjoy the willfully inflicted pains of shibari, "the art of ropes, of beautiful knots, of what, for lack of a better word, we call bondage" (Parts Unknown, "Tokyo"). "Does it hurt? Or does it feel good?"
"Bondage Art" by Hajime Kinoko via @kinoko_shibari
"Of course," Tamiko answers, "but this pain, changes through the ecstasy. When I'm tied up, [there's] no need to think, just leave it to…" she trails off, eyeing Hajime with hunger. As the group move on to Daitoryo's famous motsunabe, a popular stew made with the guts of various types of meat, Bourdain admires the enthusiasm for bondage in Japan. "Performance art, craft, fetish, or compulsion, it's an old and shockingly omnipresent feature of Japanese fantasy culture. Magazines, movies, even comic books. The intricate constraint of a willing victim is, well, it's there. Not far from the surface" (Parts Unknown, "Tokyo").
Bourdain ventures further into the artful, if not a little sordid, realm of bondage and erotica by interviewing prolific mangaka, Toshio Maeda, at a restaurant not far from here. Maeda is the father of one of Japan's leading international exports, shokushu goukan, or, for lack of a better term, tentacle porn.

Bourdain questions the allure of the graphic style of entertainment, wondering why it's so popular in Japan (and around the world). "Basically, it's forbidden," explains Maeda, who goes on to discuss the Japanese law of censorship that disallowed the presentation of genitalia in the selling and buying of pornographic material, "it was a big no no, at the time. So, I invented tentacles to be evasive of that law." Maeda refers to his dramatic departure from his earlier manga works to create Urotsukidōji, the pioneering opus of the tentacle porn genre.
"Toshio Maeda Shows Anthony Bourdain His Work" via @jalbacite
Published from 1985 to 1986, Urotsukidōji inadvertently galvanized an entire genre of erotic fantasy. Inspiring animes such as Wicked City (1987), filmmakers such as Takashi Miike, and even resulted in a collaboration with fashion label, Supreme, in 2015.
Through His Taste Buds
Anthony Bourdain devoured his way through the world, sharing meals with some of the greats and opening windows to some of the most unique aspects of international cuisine and culture. Forever typified by his gentle nature, his observant attitude to traditions and people, and his propensity to seek out the nooks and crannies, no matter the risk, no matter the country, Bourdain was the eyes, ears, and taste buds of so many.
He had a passion for Japan, often comparing the experience of visiting for the first time "to what Eric Clapton and Pete Townshend – the reigning guitar gods of England – must have gone through the week that Jimi Hendrix came to town. You hear about it, you go see it. A whole window opens up into a whole new thing. And you think, "what does this mean? What do I have to say? What do I do now?"" (Parts Unknown, "Tokyo").

We learn from you, Tony, the "Maverick food porn poet" as declared by friend and fellow chef, José Andrés. We learn from you and all your wonderful and eye-opening experiences, your tenacity to go out and try new things, and your courage to venture into the unknown.
"Anthony Bourdain" by dackelprincess is licensed by CC BY-SA 2.0
Here's to Anthony Bourdain. One of the greats, if not, the greatest food and travel TV hosts of all time. More than just a connoisseur of food and adventure, he was a connoisseur of life and all its uncharted waters.